One of the most popular features of Ecamm Live is the ability to have as many as five remote guests appear on your broadcast. This bit of magic requires a Skype plugin from Ecamm, Call Recorder for Skype.
Preparing for your Remote Guests
If you haven't already, install Skype for Mac, and then install Call Recorder for Skype. If you've never used Skype before, you'll need to sign up for an account, as well. When those are set,
Launch Ecamm Live.
Launch Skype

This will automatically bring up Call Recorder as well.

Start a call with a guest.
Ecamm Live will automatically detect the presence of a Skype call, presenting each guest as an individual source in the camera source switcher.
Each guest's audio will be immediately connected to Ecamm Live.
If any of the above items don't happen automatically, quit Ecamm Live. Make sure that Ecamm Call Recorder for Skype was installed first, and that it runs properly with a Skype call. Then launch Ecamm Live again.
Each guest will appear separately in your camera source switcher at the bottom of Ecamm Live's Main Window. Shift-click to select multiple sources, and we'll automatically create a split screen. The broadcast will divide equally amongst as many sources you select, up to 9 boxes, including your own lovely visage, should you choose. If one of your guests is audio-only, their box will show a Skype logo in the camera source switcher. You can choose to display this on screen, but if you don't, their audio will still be automatically available in your broadcast.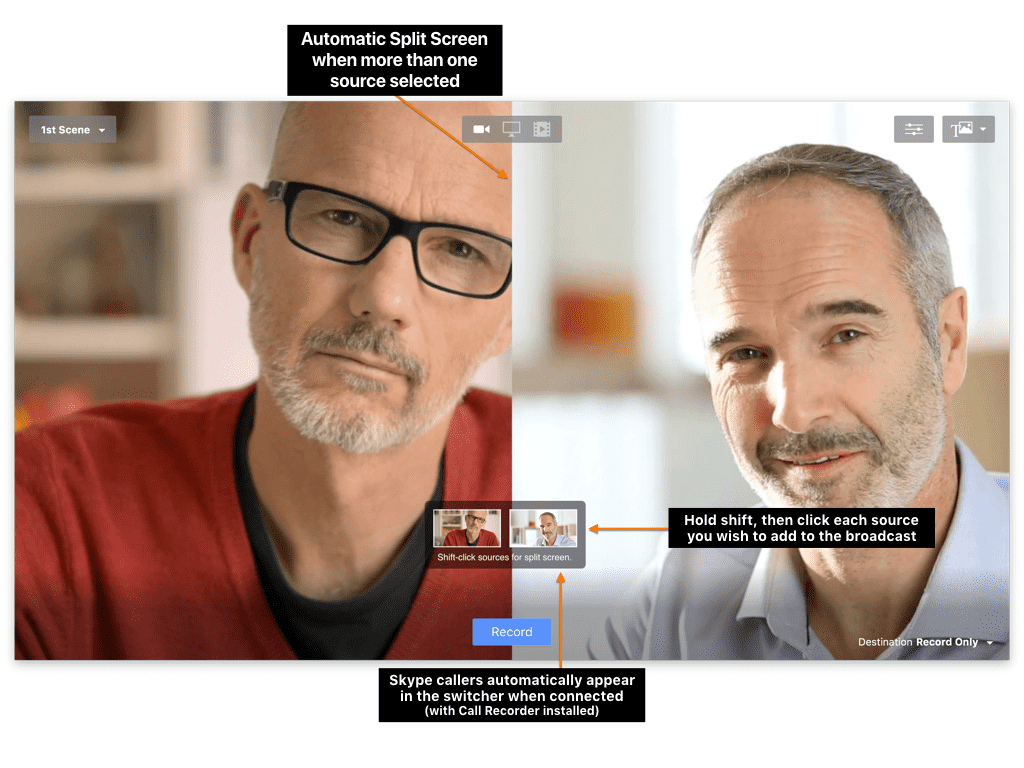 In the Sound Levels window, all Skype guest audio is available as a single, mixed source. You can adjust the volume of the Skype call independent of your own audio. Before broadcasting consider helping your guests adjust their microphones to have similar audio levels. By default, all Skype guest audio is piped into Ecamm Live, regardless of whether a remote guest's video is visible in your broadcast.
Scenes Tip for Interviews
The fastest way to switch from an interview's introduction to a view of you and your guests is to store the interview screen's different looks within Scenes. The basic idea is to have one Scene for each look. One possible set up could be…
Create an introductory Scene with just your camera source, and any overlays, as you introduce the guests.
Create a second Scene that shows you and your guests in a split screen, with overlays for their names, titles, etc.
Create subsequent Scenes with topics you're discussing as lower-third-style Overlays.
Create Scenes with each speaker isolated, to focus attention on them when they speak at length.
While you're live, switch between the scenes to support the conversation. Remember Scenes are not linear. You can switch between them at will.