See also the First Facebook Live tutorial for the bare essentials from first-run to your first Facebook Live broadcast.
In the Destination menu in the bottom corner of the Main Window, select Facebook, in the bottom-right of the Main Window. A big blue button at the bottom-center of the Main Window will display one of several different options:
Login — click to login to Facebook and connect the app.
Go Live — you're logged into Facebook. Click to begin a live broadcast.
Preview — you're logged into Facebook, and have scheduled an upcoming Live broadcast.
Login to Facebook
Click the blue Login button to summon Facebook's login screen. Enter your credentials, and if you use two-factor authentication, you'll be asked for that code as well.
Once logged in, Ecamm Live will then ask for permission to post to your timeline and other locations within Facebook. This is necessary to publish live streams. If you manage Pages or Groups (for example for a business or other organization), Ecamm Live will also prompt for permission to manage Pages and Groups.
If you need to change these permissions later, visit the Facebook Business Integrations page and click on Ecamm Live for Mac. If you have trouble broadcasting to a particular destination, come back to these settings within Facebook to ensure you're allowing access as intended.
Once you're logged in, you're only one click away from your first Facebook Live broadcast. However, you'll want to verify where and how you are broadcasting to Facebook first. In the bottom right corner, you'll see several pull down menus appearing below the Destination menu.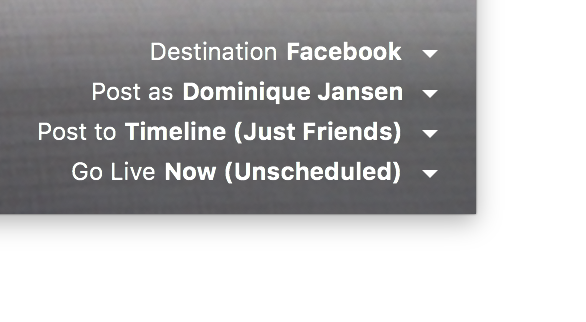 Post as — Select who the broadcast will appear from. The menu includes your personal Profile and all Pages that you administer.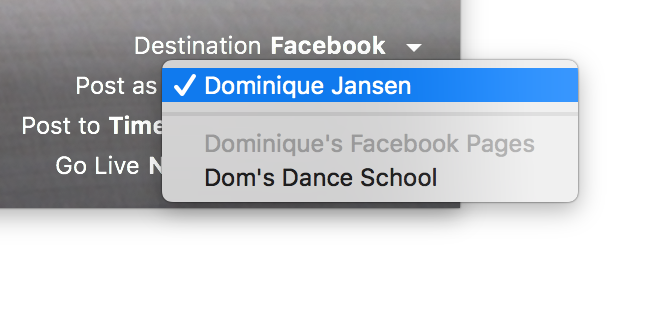 Post to — Select where your Facebook Live broadcast will appear, and your options depend upon who you're posting as. If you're posting as yourself, options include your personal Profile, and any Groups you administer. if you have selected to post as a Page, you'll see options for the Page's timeline and any Groups that your administer. (Note however that you'll only be able to stream as a Page to Groups linked to that Page.) When posting to your personal Profile, you'll see privacy options to choose from, like Profile (Just Friends) which allow you to restrict your audience.
You may also see additional Groups listed in the menu, that you do no administer. These are Groups where an administrator has already added the Ecamm Live app.
Go Live — Select when your broadcast will post to Facebook. Your choices are Now and New Scheduled Live…
Going Live Now
If you select Go Live ➝ Now (Unscheduled) you may click the big blue button labeled Go Live in the Main Window to broadcast immediately, or first create a Facebook Post to accompany the video.
To create a post for your Live broadcast, in the bottom left corner of the Main Window, you'll see a Description field and a map pin icon. Text entered in the Description field will become the text of the post that accompanies your Facebook Live broadcast. Optionally, if you would like to enter a Title for your broadcast, select Options menu ➝ Facebook Options ➝ Show Title Field. This title only appears on Facebook when a viewer with a desktop browser clicks on the broadcast. It will not appear on news feeds or for mobile viewers.
Clicking themap pin allows you to tell Facebook where you're broadcasting from, which will be noted in your Facebook Live announcement. If your broadcast is public, it will also place you on the Facebook Live Map.
Once you've added the content for the post, click the big blue button labeled Go Live in the Main Window to broadcast immediately.
Creating a New Scheduled Live
If you select Go Live ➝ New Scheduled Live, a sheet appears to help you create a Scheduled Live broadcast, with a description and time for the broadcast. These will create an announcement post on Facebook at the Post to location. At the time you choose, between ten minutes from now and seven days from now, the announcement will turn into a live video post. If you'd like an image to accompany the announcement, drag an image onto the circular icon on the right side of the post editor. You may click the map pin icon to add a location for the broadcast.
To enter a return (new line) in the description field, hold down shift while pressing return.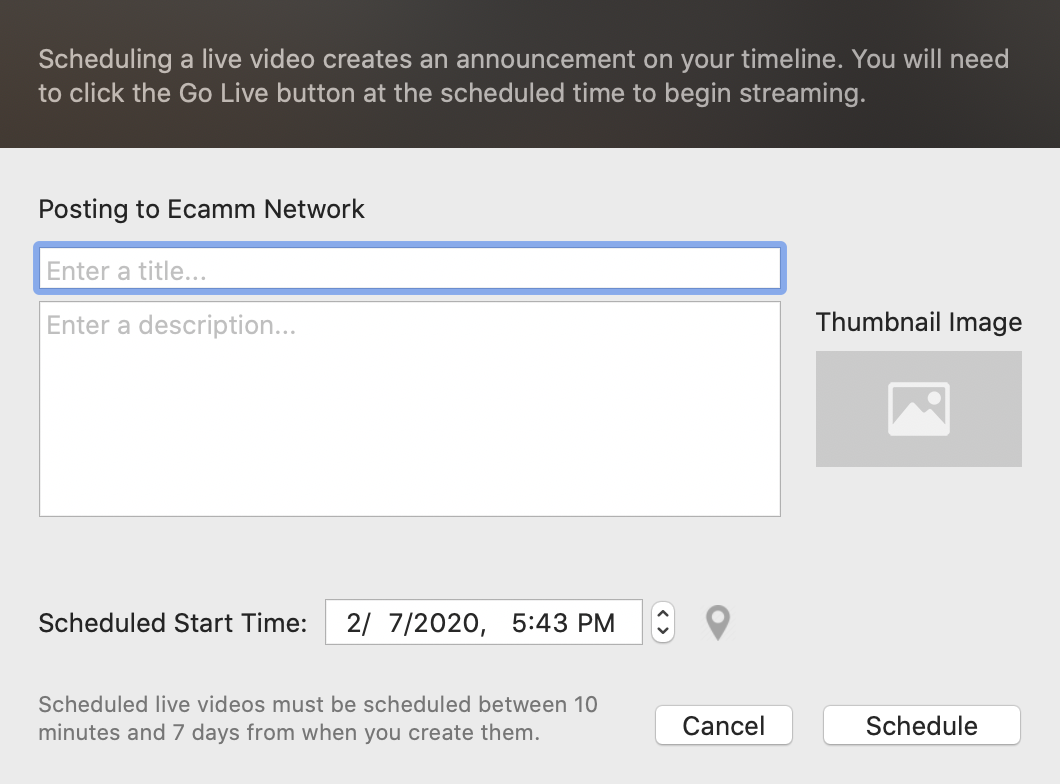 Once you have scheduled a Live broadcast, any pending broadcasts are listed in the Go Live menu in the bottom right corner. This list of scheduled broadcasts resides on Facebook, so if you quit Ecamm Live or use Ecamm Live on another Mac, you'll still see the same list of scheduled broadcasts here.
When a pending broadcast is selected, in the bottom left corner of the Main Window you'll now see a countdown timer, which lists the time left until you go live. Click the timer to view or edit the announcement post that was created on Facebook. It will open in your default web browser. Also, there's a trash icon for cancelling the scheduled broadcast.
Before the countdown reaches zero, the big blue button displays Preview. Pressing Preview allows you to test your streaming connection prior to the beginning of your scheduled live broadcast. The preview stream is only visible to the broadcaster. Visit the post announcing your Live broadcast on Facebook (which you can do by clicking the countdown timer) and there will be a small link at the bottom of the post labeled Broadcaster Only: Edit Your Details. Click this to view the space where your stream will appear, and in a few seconds, you'll be able to preview your live stream. If, while you're previewing the stream, the countdown to your Live broadcast ends, your preview will become the Live broadcast automatically.
View Viewer Comments and Reactions
During broadcasts, any comments or reactions your audience makes on your live broadcast will be displayed in the Comments and Reactions window. If you don't see this window, pick it from Windows menu at the top of the screen. Additionally, during a broadcast, if there are comments, you'll see a button in the bottom left-hand corner of the Main Window to reveal the Comments and Reaction window.
Restrictions on Group Comments
Due to Facebook privacy restrictions, when broadcasting to a Facebook Group, Ecamm Live is not able to display Group member names and profile photos unless the Group members have explicitly granted permission to the Ecamm Live app. This means that comments from Group members who have not granted permission will show up anonymously.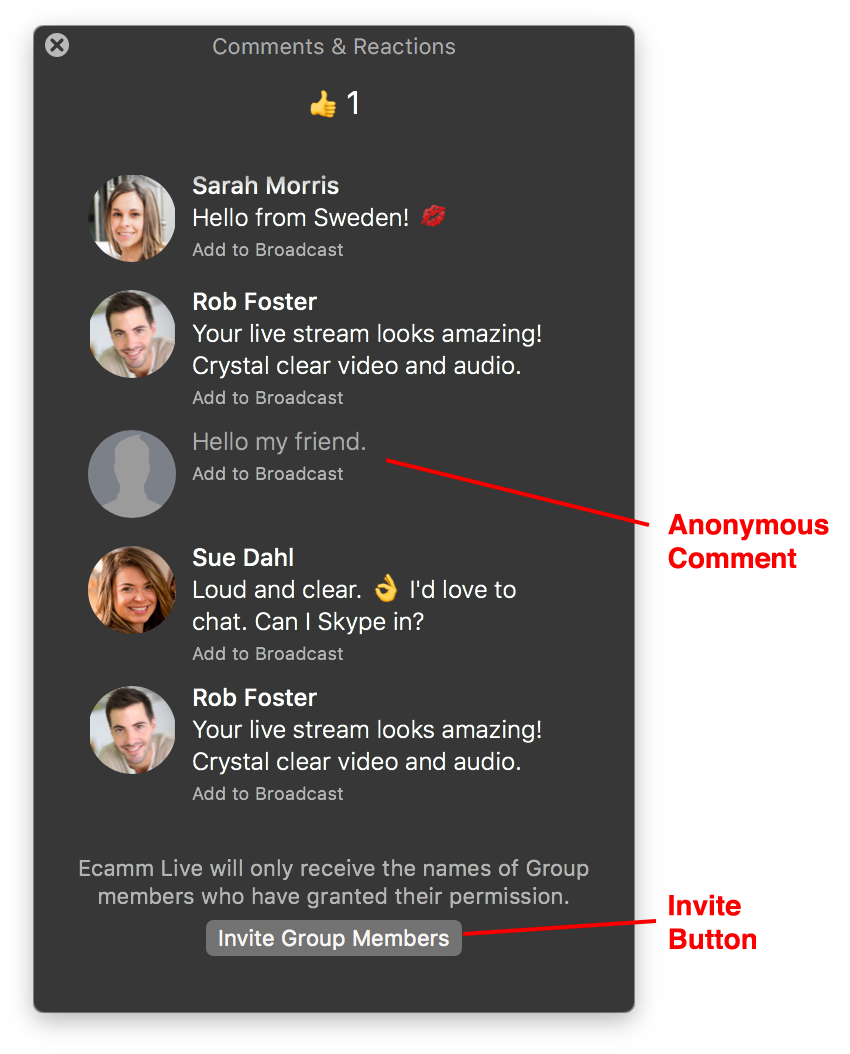 Inviting Group Members to Grant Permission
To invite Group members to grant their permission, click the Invite Group Members button at the bottom of the Comments and Reactions Window. The window will change to display an invitation link. Provide this link to Group members.
There is also a checkbox for automatically adding this link to your broadcast's post description on Facebook.
The link will display a web page where Group members can log into Facebook and grant permission to Ecamm Live.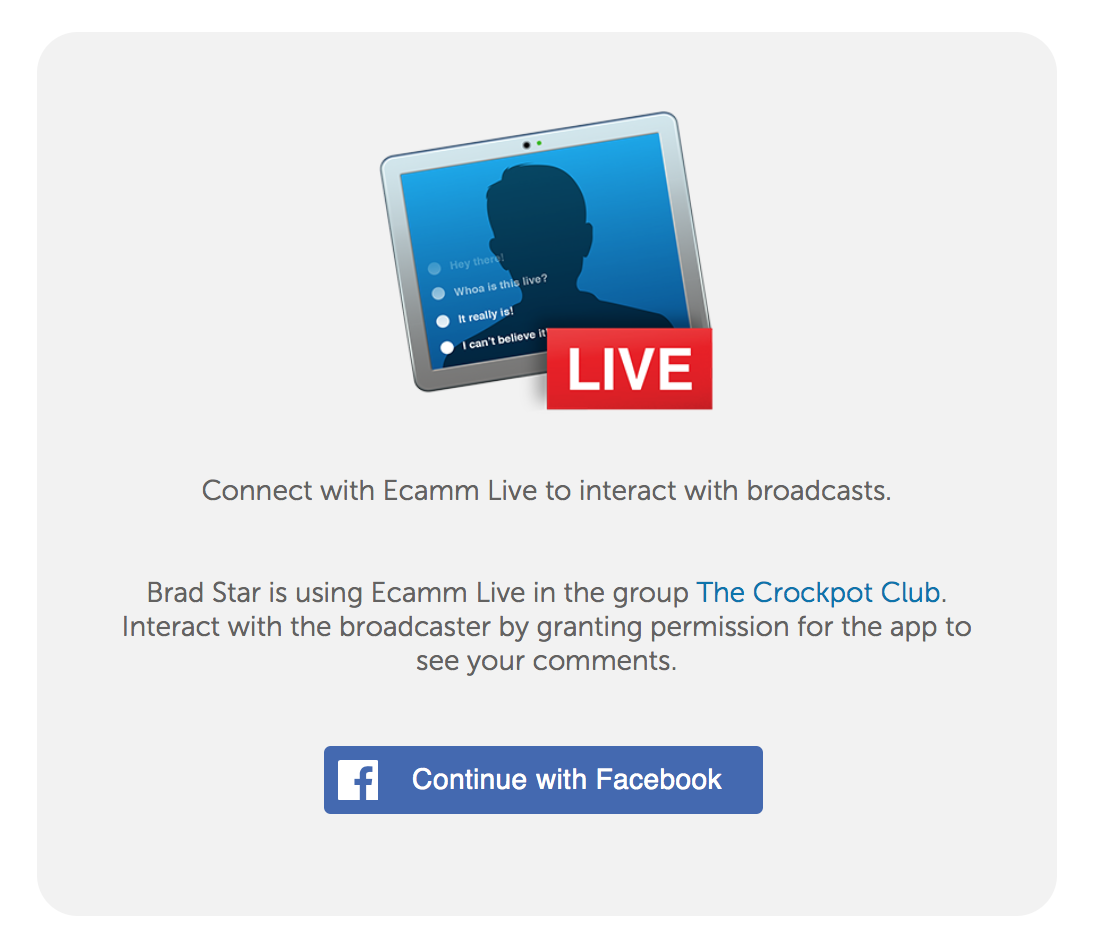 Group members will only need to do this once, and from that point on, comments in Ecamm Live will show up with their name and profile photo.
The code number provided in the link is unique to you and the Group, so it can also be used as a link to invite viewer to your broadcast.
Display Comments on Your Broadcast
If you would like to share your viewers' comments with the audience, you can add individual comments to the broadcast by dragging them from the Comments and Reactions window to the Main Window, or clicking Add to Broadcast under any comment. The comment will become a styled Text Overlay. Read more about your options in the Overlays section.
Ending a Facebook Live Broadcast
Click Finish.
(Well, that was brief.)
After a Facebook Live Broadcast
After clicking Finish we'll present you with a message confirming your broadcast has ended, and offer several options for your next steps.
Your Live broadcast is now a post on Facebook.
View Post - click to reveal the post in your default web browser.
Delete Post - click to remove the post from Facebook. We'll double-check with you before we destroy it, as there is no undo.
The next two items concern a local Recording of your broadcast. Much more on Recordings in the Local Recordings section, but for now…
Show File - click to reveal the recording file in your Mac's Finder.
Send To YouTube - click to send the recording to your YouTube account.
If you've never used the YouTube feature, you'll be asked to sign in when you press the Send To YouTube button. You'll then be presented with a form to add information about your upload, and set its visibility options. Once you've uploaded, you can close the dialog box or you can click to Go To YouTube to view your upload.
Logging out of Facebook
Ecamm Live will stay logged into Facebook unless you manually log out, or if you remove permissions for Ecamm Live in Facebook's account settings.
If you'd like to log out of Facebook, first make sure Facebook is selected in the Destination menu. Then go to the Ecamm Live menu at the top of your display, and select Log out. In the Main Window, we'll ask to confirm before logging you out. Pick Log Out.
A Few Advanced Settings for Facebook Live
Using Facebook Ambient Broadcasts
Ambient broadcasts—also called continuous broadcasts—are a special kind of live stream that
Can exceed Facebook's four-hour Live broadcast time limit
Will disappear from your timeline immediately when the stream ends
Does not send notifications to followers
Facebook suggests these live streams are ideal for places like aquariums, museums, and zoos. If you're interested in running an Ambient broadcast, enable it in the Options menu ➝ Facebook Options ➝ Ambient Broadcast.
Embedding Your Broadcast
The video player your Live broadcast resides in can be embedded into other places. This can be a great thing for your audience extending your reach. To get the embed URL for a stream, once a stream has been scheduled or started, pick Copy Embed URL from the Edit menu. This will allow you to embed a video player with your broadcast elsewhere online. Alternatively, Copy Embed HTML will provide an HTML snippet containing an IFRAME. This will allow you embeda video player on a page on the web.
Disallow Embedding
The video player your Live broadcast resides in can be embedded into places you have not specifically choose to broadcast, within Facebook, or on the web, but there are times you may prefer to disallow it. Options menu ➝ Facebook Options ➝ Disallow Embedding.
Broadcasting Branded Content
Facebook policies require creators and publishers to tag their business partners in their branded content posts. When setting up a Live broadcast that involves a business partner, enter a Sponsor ID by selecting Options ➝ Facebook Options ➝ Include Sponsor ID. This option is only available when broadcasting to a business Page.